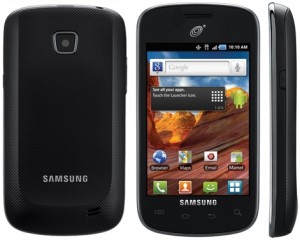 I was recently in the market for a no-contract Android phone. I've been on Straight Talk for several years now, but their dumbphones just weren't doing it for me anymore. It was time to upgrade. Straight Talk has had several Android phones available for some time now, but none of them had what I wanted. The Samsung Galaxy Precedent is too slow, the LG Optimus Q has a sliding keyboard (no moving parts for me, past experiences ruined that idea), and the LG Optimus Black is well out of my price range. So when the Samsung Galaxy Proclaim showed up, well spec'd, under $200, AND running on Verizon's network? That's a deal I couldn't pass up.
The Samsung Galaxy Proclaim (SCH-S720C) comes equipped with a 1GHZ processor, 512MB of ram, a PowerVR SGX 540 GPU, 1GB of onboard storage (2GB SD card included), a 3.2MP rear-facing camera, and a 3.5 inch capacitive touch screen with a resolution of 320×480. Running on top of all that, the phone comes with Android 2.3.6 (Gingerbread) installed. You can find more detailed specifications here.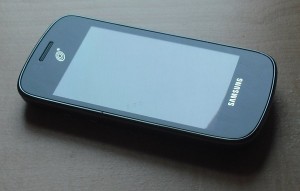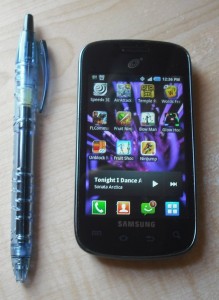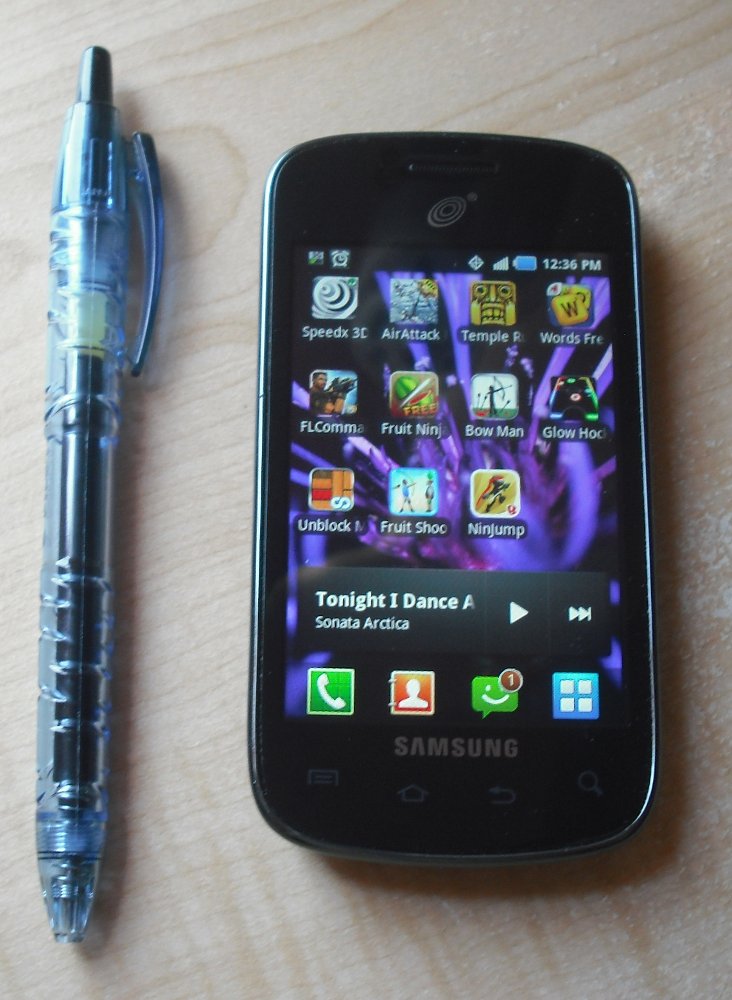 First off, the phone looks very sleek and stylish. The glass screen is curved at the top and bottom of the phone, and features capacitive touch navigation buttons. The back of the phone is a nice textured plastic, the physical appearance of I can only describe as "quartered diamonds" (here's a picture). It has a 3.5 inch screen which is the same size as the iPhone's screen to give you an idea of size. Fit's nicely in my hand, not so large to be cumbersome and not so small to be annoying to use.
There's not a whole lot in the way of external connectivity on the phone but everything you'd expect to be there, is there. Two-button volume rocker and micro-sd card slot on the left side, power button on the right. 3.5mm headphone jack on the top and standard mini-USB port on the bottom.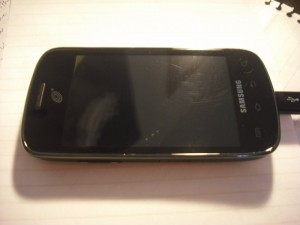 I mentioned the screen which isn't explicitly identified as Gorilla Glass by Straight Talk or any spec sites I've seen, though I don't see any respectable manufacturer using anything else these days. I already incurred some damage to my phone's screen, which certainly would've cracked anything but some kind of strengthened glass. One night I was charging my phone on my bedside table, and I accidentally knocked it off. It smacked a sharp corner on my metal bed frame, causing this purely superficial damage you see to the right. You'll note some other very light scratches on the screen after 3-4 weeks of being my pocket without a screen protector. My roommates obviously Gorilla Glass iPhone isn't nearly as scratched as this is however, and he's had his phone for at least 9 months. So I'm disinclined to believe it's Gorilla Glass, but it's not just any old soda-lime glass either.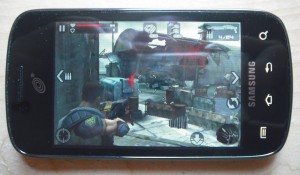 As for the performance of the phone, I'm super pleased. It's incredibly snappy and animations are silky smooth. It takes many running applications to create any kind of noticeable sluggishness and even then the effect is minimal. 2D and 3D games are no problem for this phone. The PowerVR SGX 540 could be considered overkill for the relatively low resolution screen, but this means higher performance with fewer pixels to push. You won't find me complaining about this. It's capable of running high quality games such as Frontline Commando (pictured right) at more than playable framerates. Videos play just as well as you'd expect them to. The network performance is pretty great as well. 3G coverage by Verizon is pretty hard to avoid, and is generally very fast (for a mobile data connection). WiFi of course is a superior connection where available, and this phone has no trouble taking advantage of all the available bandwidth. Cell coverage is excellent where I am at (Philadelphia). The phone has yet to drop a call for me, even when travelling across the city via bus.
I have had one issue to do with the mobile data connection however. I'm not sure if it's a provider problem, or a problem with the phone (update: seems like a bug in the default message app). If I receive a picture message from someone, or a message that is over the 160 character limit, the content is treated as data. When this happens I'm presented with a "Download" button (or sometimes it just automatically starts downloading). Unless my 3G is already turned on, the download never finishes, and I never receive the message. It will continue infinitely downloading even if I turn 3G on after I hit the download button. This is pretty annoying, as I've missed a number of picture messages and have to tell people to send them via another method. I think this is a problem with the provider (Verizon) however as two of my friends who have Verizon and different phones have experienced similar problems, while other friends on the Sprint network have not. My solution has been to use a non-default MMS app, such as Handcent SMS.
Another minor issue I've had is a slight occasional backlight flicker when the brightness is turned down. It is not really bothersome to me, but I can see how it might annoy some people. It's mostly apparent when viewing something with a white background such as a web page or an eBook, otherwise it's not noticeable. When it happens, it generally only lasts a few seconds. I've read that some other owners have experienced similar flicker, so it might be something to consider if you're picky about that sort of thing.
The speaker on the Galaxy Proclaim is VERY loud! Louder than any phone I've been able to compare it to. When I ride my bicycle to or from work I usually start some music, max the volume, and stick the phone in my pocket. I can hear the music fairly clearly while doing this, as long as there isn't a bunch of traffic around me. Volume isn't everything though, and the onboard speaker doesn't disappoint when it comes to sound quality either.
Battery life isn't disappointing. I generally end the day with between 30-60% battery remaining, depending on how much I use it. Obviously if you're on WiFi/3G all day and playing games or using other draining apps, it will run out of juice very quickly. This is just my experience with my daily routine of school and work, so your mileage may (and probably will) vary. I noticed this phone has a light sensor on the front, just left of the speaker. You can only see it under the right light and at first I thought it was a front facing camera (disabled, maybe?) but no, it's not. Let me repeat that this phone does NOT have a front-facing camera! The light sensor allows for the automatically adjusting back-light setting on the power bar. This helps a lot to save on battery and automatically compensate for changing lighting conditions. I only note this because I found that my friends HTC Evo 4G does NOT have a light sensor. Interesting, considering it's a higher spec'd and priced phone.
The camera on this phone is nothing to get excited about. It's 3.2MP, and it doesn't have auto-focus. This makes reading QR/BAR codes near impossible unless they're fairly large, and getting non-blurry shots of close up objects out of the question. It also doesn't have anything in the way of image stabilization, so you will want to be patiently still to avoid blurry photos and jerky video. If this doesn't bother you and you're not planning to do professional quality photography with your phone, it should satisfy. The phone records video at 720p and aside from the lack of stabilization, is fairly good quality. Below are a few photos and a video I've taken with the camera to give you an idea of the resulting image quality in different situations. I'm happy with the quality of photo/video it produces, but you can draw your own conclusions. I haven't re-sized or edited these photos at all, so what you see is what you get.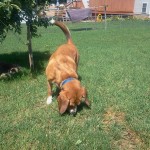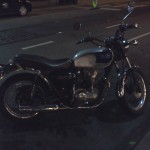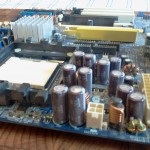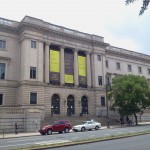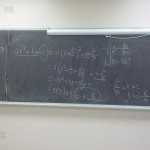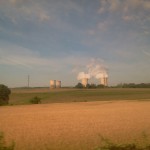 On the whole, I've been incredibly satisfied with this phone. With a price tag of just $179, it's hard to find a better value. If you should decide to pick one of these up, I think you'll be very happy with it as well.