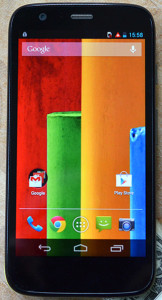 I'll say up front that this is only my second "smart phone", and you should take my opinion with a grain of salt. That said, I'm no fool and I'm not about to write the same review every other website on the internet saying "Oh look at this cool budget smartphone! It's got good specs and is only $199!". This is my personal phone and I've used it long enough to get a feel for how it meets my, and possibly your, needs.
My old phone (Samsung Galaxy Proclaim) finally died, putting me in the market for a new phone. Originally I was looking at the Samsung Galaxy S3 (mainly because it's the Droid that ALL of my friends have), and what competition there is at a similar price point (note I was looking at used S3's). It took me a bit to stumble upon the Moto G, but I am sure glad I did. This phone is absolutely competition for the S3, and far cheaper too.
I'll note the specs briefly here, but you can find more detailed information here. This little beast packs a quad-core processor, 1GB of RAM and 16GB of storage (13GB is actually usable). The phone does not have a Micro-SD card slot which might be a qualm for some, but for me 16GB and online storage is more than enough. Graphics are driven by Adreno 305 GPU, and displayed on a beautiful 720×1280 4.5″ IPS LCD panel. I like the screen on this considerably better than the S3, since the pixels are actually square and the colors aren't so vibrant as to be unrealistic. The screen is directly comparable to the retina display you get on iPhones (actually, the pixel density is slightly higher than that of the retina display). The battery pack is not removable which again might be a qualm for some, but I don't think it's a huge deal. The phone also includes a 5MP rear-facing camera with auto-focus, and a 1.3MP front facing camera with fixed-focus. As for data radios, the Moto G has a 3G modem (one point where the S3 is obviously better equipped, sporting a 4G LTE connection).
I ordered the 16GB unlocked Moto G direct from Motorola about 4 weeks ago for $199. I tried ordering online several times, but their credit card processing facilities seem to be broken there. I ended up having to call them and order over the phone, a minor annoyance really. Since I've been on Straight Talk since the days of my first cell phone, I wanted to stay there. Easy enough, since the phone is unlocked and ST offers a bring-your-own-phone program. All I had to do was order a $7 AT&T compatible micro-sim from ST and I was on my way. Pop in the sim, activate it on ST's website, input the APN information and you're on your way.
The build quality of this phone is pretty solid, especially for a phone at this price. There are bits where you can tell they skimped to cut costs, but they're non-critical in my opinion. The screen meets the body of the phone at a very fine seam, and the portion of the front of the phone that the screen meets is a glossy metal (as far as I can tell). The back shell of the phone is a matte black hard plastic, that isn't nearly as slippery as the S3. The phone is a little thicker than the S3 and somewhat heavier, but I like both of these things. It doesn't feelcheap, or like you're going to break it if you look at it wrong. There are only three physical buttons on the phone: the power button and the volume rocker. These are made of a shiny silver plastic, but they're not fitted snugly in the chassis. If you shake the phone, they will rattle and you can freely wiggle them around with your fingers. It doesn't impair usability but some people might find it annoying, definitely a part they could have improved on. There are also no capacitive system buttons like you might find on other phones, every bit of the Android interface is displayed on the screen.
As for software, I think Motorola made the right choice in using a basically un-altered build of Android 4.3 (which you can upgrade to 4.4 immediately upon activation). No heavyweight TouchWiz or Sense UI, just plain old Android. Everything runs silky smooth, is responsive, and just generally feels fast. It took me a few days to acquaint myself to the unaltered interface since I'm used to a number of the shortcuts Samsung provides, but there's nothing inherently bad about that. If you're interested in playing high end games, fret not as the Moto G plays like a champ. Games such as Minecraft PE, Fields of Battle, Dead Effect, and Zen Pinball HD all look great and don't stutter or lag a bit even with the settings maxed. Very impressive.
So all that sounds well and good, but how do I feel about the individual aspects of the phone I haven't mentioned above? I'll cover some of the notable pros and cons below:
Camera:
The physical camera itself is good. It's not great, but it takes decent pictures. Lower resolution pictures than the S3, yes, but generally clearer and less noisy as well. Autofocus is quick and does its job adequately. The camera software however, is a bit lacking. It really only includes facilities to take photos and video, toggle flash, adjust exposure, and a few other simple things. No special filters or any of that stuff: the stock camera app is very bare bones. If you're expecing to do fancy mobile photography with your phone, you might want to look elsewhere or invest in a nice camera app. Reddit user AJSILVA1107 pointed out to me that this app does have a burst photo mode, you simply hold down the camera button and it will take rapid-fire shots.
Speakers:
The rear ("loud" speaker, if you will) speakers sounds fantastic, as in sound quality. Definitely one of the better phone speakers I've heard. However, adjusting it for the right volume is a little tricky. You essentially have two options: load or barely audible. You can get a "medium" sound level: it's basically just one notch on the volume meter between quiet and loud. Sound from the rear speaker doesn't translate well to the front of the phone, so if you're watching a video you almost have to set the phone in front of something or cup your hand around the speaker to hear well. For music though, it's great. Just set the phone down and blast it, you can hear everything clearly (of course there's no bass response, but if you're expecting that out of any phone speaker you're going to be dissapointed).
Battery:
Battery life on the Moto G is fantastic. With my daily usage pattern (which includes a 9-5 style job and not texting much at work) I usually end the day with over 50% charge remaining. If you aren't one to be browsing online all day or constantly playing games, there's no reason you couldn't go two days on a single charge. That's not to say I don't use the phone much, I'm on twitter or browsing the web during my commute to and from work often, as well as when I get home. The day for my phone is usually 16 hours off charger at a time (6a-10p), and I'm thoroughly impressed with how it performs here. In fact lately I've been refraining from charging the phone when I get home, and just let it go down to ~25% (however long that takes) before charging again. With the "Battery saver" feature enabled, I've been going 1.5 – 2 days on a single charge lately.
I will probably add to this review as I think of more things worth mentioning. Overall, I am super happy with this phone and very glad I didn't go with the S3, if for no other reason than that I don't have to be constantly charging the thing (S3 has pretty poor battery life). You'd be hard pressed to find another phone with this kind of value in todays market, so if you're on the fence about this one you should climb on over. I don't think you will be dissapointed!